WE'VE ALL DREAMED OF FLYING.
As a child, did you ever spread your arms with a makeshift cape or tinfoil wings, pretending to soar through the air? We're on a mission to turn that childhood dream of flight into reality.
Indeed, throughout human history, perhaps no dream has been more shared than that of flying. From Leonardo da Vinci's ornithopter to hot-air balloons to solar-powered planes, humankind has always looked up, imagining new ways to explore the skies.
A Brief History of Flying Devices
1000 BC
China invents man-lifting kites for espionage.
1488
Leonardo da Vinci begins designing human-powered flying devices, "ornithopters," using bird wings for models.
1783
A Montgolfier hot-air balloon carries two people 84 feet into the air for four minutes, achieving the first sustained human flight.
1852
A steam engine powers the first airship, or dirigible.
1891
Otto Lilienthal makes the first of many successful flights with his unpowered ornithopter.
1903
The Wright Flyer lifts into the air for the first manned, heavier-than-air, powered flight.
1939
The first practical helicopter, VS-300, lifts off for 10 seconds.
1947
The rocket-powered Bell X-1 achieves supersonic flight.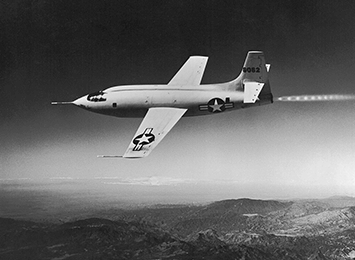 1955
Hiller's Flying Platform, a direct-lift rotor aircraft developed for the U.S. military, successfully takes off.
1957
The Boeing 707 makes its first flight, ushering in the Jet Age.
1961
Bell Aerosystems demonstrates a personal jetpack called the "Bell Rocket Belt."
1977
The Gossamer Condor becomes the first human-powered aircraft to achieve controlled and sustained flight.
1980
Williams X-Jet, known as "The Flying Pulpit" makes its first manned, untethered flight.
2010
The Solar Impulse becomes the first solar–powered craft to fly for 24 hours.
Source: Milko Vuille
NOW IS THE TIME.
Recent advances in propulsion, energy, light-weight materials, and control and stability systems have resulted in a time when our most audacious dream—the dream of pure human flight—is now achievable.
Together, we will make people fly.
Sources: AIAA, Otto Lilienthal Museum, National Air and Space Museum, Smithsonian Mag